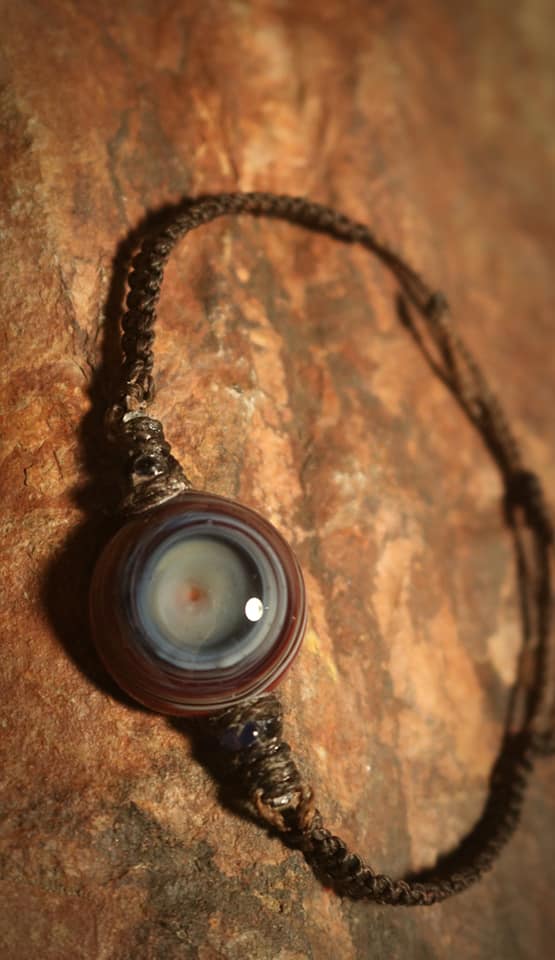 An important part of Toca is growing a space of imagination & creativity.
Creativity can be found & expressed everywhere; from crafts to gardening, the mundane or artistic, the more you sow creative energy the wider it ripples out filling the space we hold, becoming a way of life and eventually reaching a point where all who visit can feel & engage with this tangible energy of inspiration.
This is an environment we wish to encourage; all visitors to Toca, both those who stay for a few hours or a few months, are important contributors to this vision. When we all open to this creative flow & allow ourselves to truly connect to each other with an open heart; then something truly magical happens.
As a community we work, live and play together and strive to be as open and aware as we can to influence each other into creative freedom. Naturally, this can sometimes be difficult as we continue to pass through our individual spiderwebs of growth but when these moments happen, we are reminded of the flow in which we wish to live and ride this wave of inspiration the way we know best; with pure love and creativity.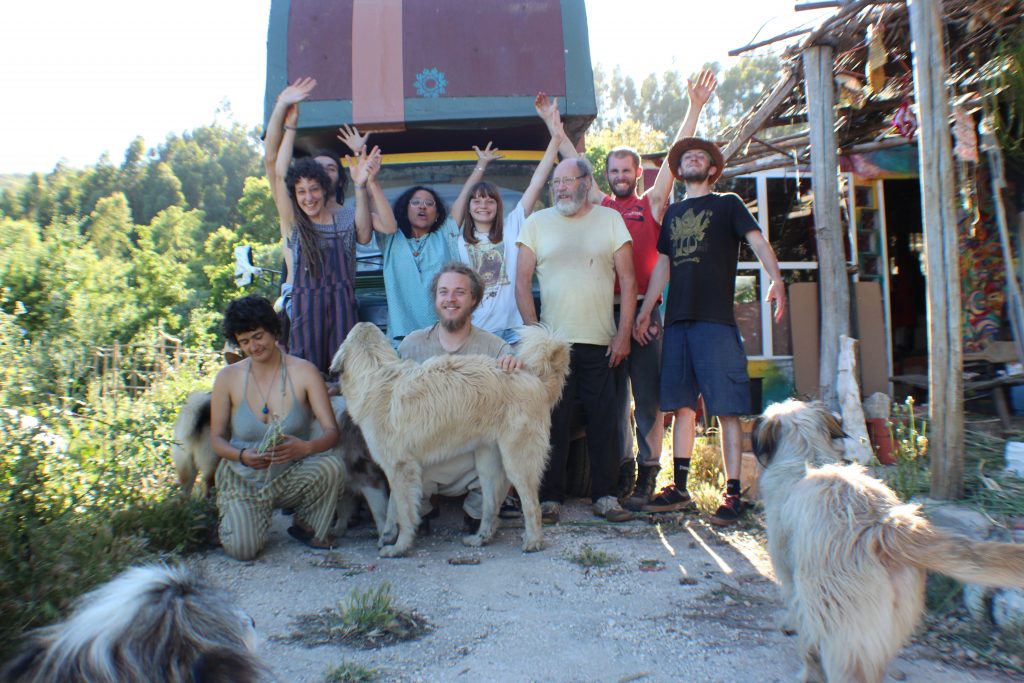 One such magical moment occurred here a few weeks ago when the magician & the dancer came to stay bringing with them a whirlwind of inspiration.
Ba & Toto are on a great travelling adventure, with a colourful truck & three hound companions; a lion, a wolf & a bear. They are exploring the world in a sequence of constant motion. Forever moving & forever seeking & sharing inspiration & creativity. As OLIÜK they create beautifully delicate & powerful glass jewellery to fulfil the creative impulse & help finance their journey. In a mix of French, English & sound effects they took the time to share with us, so that we can share with you, their ideas & philosophy on creativity.
How & why glass?
Toto is self taught & has been working with glass for four years; Ba began to learn from him 6 months ago. They travel with their workshop, setting up the space to create new treasures & visiting markets & festivals to sell & share their unique wears.
Toto explains that for him, glass is a theatre. 'Glass is endless dreaming. It is never finished, when working with  glass you can keep reworking & reshaping the material; it continues to evolve under the fire, showing you new things.' Even once the piece is 'finished' it continues to show you before undiscovered qualities.' In different lights & different season you find new shapes & reflections in the glass. New creatures & forms are found every time you look. The glass captures all the experience from the surrounding air of that moment in time, like pieces of enraptured energy. 'A breath of the universe captured in the glass'. It is history & future possibility all at once.
So where do you find your inspiration?
For Toto this is the magic of play. All sources can offer inspiration; nature, scenery. Adept at his craft, he can play in the studio & see what can be discovered.
Ba agrees that there are many sources of inspiration. Photographs, nature, geography of colour. 'It all depend if you are creating for the sake of creations or as a commission. When creating for another person they become a part of the process & a source of inspiration as you also think about their needs as well as imaging the soul you are creating for.'
& how do you collaborate & work together?
Ba – 'When we are in a place for some time & at leisure for our work we really build the glass together, from start to finish, melding ideas & arriving at a joint creation. At other times we work independently to make our pieces. & again at times Toto will work alone with the glass & Ba will finish the creations and work the macrame.
& how to you work apart? As glass is not you only creative outlet. Do other creative outlets express the same things as your glass work or do you have different means to different ends?
Ba – For me my there are differences. The glass also serves as a purpose beyond self-fulfilment. You need to create in order to have stock to sell & so there is a restriction or another energy impacting the creative process.
Whereas in dancing I find a complete expression, it is all the words you cant find, told in a single moment. The glass jewellery is creating for the future, something you have & keep afterwards & not each piece turns out as a complete expression, even if it is nonetheless beautiful but with dance there is a complete creation in the moment.
Toto – Glass & contact ball express the same thing. Art is not a separate thing but a way of life & you can bring art into every action, not just physical creations.
Of course the glass has learned technique involved & especially when making to sell there is an element of the artisan. But I desire to give to the world artistic form, be that in glass work of my other activities, there is not a separation of the glass work as a 'job' asides from artistic creation, it holds the same objective. For me I see the world as this, you are not just putting a seed in the earth, watering it & taking care of it, waiting for the 'most beautiful' tree to grow. Instead as an artist you are liberally sowing plants everywhere you go so that when you look back you will just see a forest behind you. Too often people separate the 'normal' life & the 'creative' life, but instead I endeavour for them to be one & the same thing.
How do you maintain your creative momentum to sustain an entire creative life? Do you have any advice for other seeking a more creative pathway?
Ba – It is the same as for anyone, some days creativity doesn't flow. So some days you are unable to create, but in these moments you can still seek out inspiration. Turn to music, move your body in dance, look at photos or new landscapes. Creation inspiration is opening a door, as soon as you open one there are two more doors waiting behind it, so if you open two doors you suddenly have four more doors of possibilities & potential. Continue to open like this; the more doors you open the more inspiration & creativity you will find, constantly perpetuating & building on top of this energy.
Step outside & seek new things. Take the time to practice your technique & inspire yourself always. This is part of why we choose our lifestyle, after a month in one place the energy becomes more familiar & known, you understand the wave of inspiration breaking in that place, so then we move on in search of a new input of energy & inspiration, surfing the waves of energy from place to place.
Toto – Art is not just something understood but something felt, it is hard to explain. If we search to find the answer we can make the mistake of falling away from the artistic & into the artisan. All moments can inspire, you do not need to look for it, but instead just open yourself to it, because it is already there. A lot of people are artists without creating a thing. You can just feel inspiration & art from their energy & way of being.
& how have you been able to achieve or engage with this energy at Toca? 
Ba –  We saw Soffee's piece of woodwork, a jellyfish burned into wood. It is not glass but a different medium still we felt the need to capture this same energy of Soffee's art & capture it in glass. This inspiration came from a completely different source, but still it is a viable impetus that we then create from.
Toto – & so now we are making a new collection of medusa's in glass, we have taken Sofee's energy & reinvented it in a new form & now someone else can see our glass jellyfish & be inspired to make something else in their medium of choice. It is an endless exchange of energy, being inspired, creating, & inspiring others. Grab & give.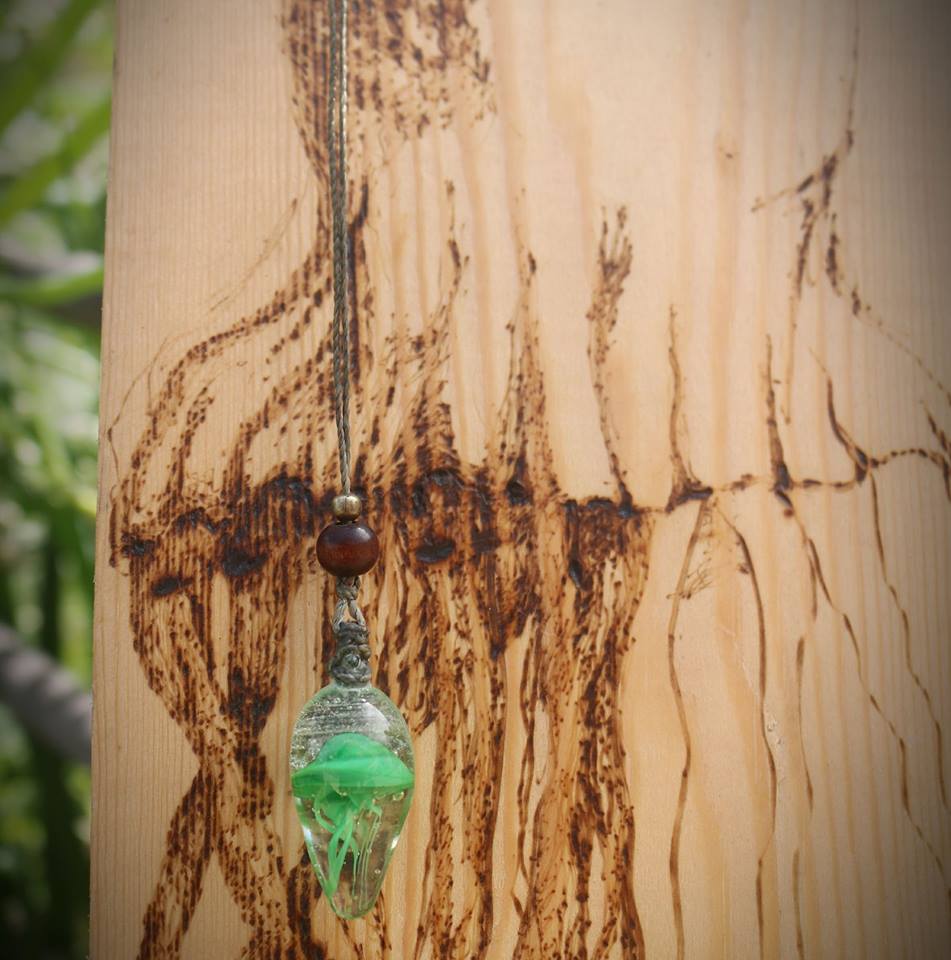 Any final words you can share to spread the inspiration? 
Ba – If you want to do something, go out & do it! Kick out the things that aren't good for you or hinder your creativity. We can all feel creativity & inspiration so just follow it without fear.
Ba & Toto are now very dear & much loved member of the Toca family & we look forward to meeting them again! Maybe you will be lucky enough to meet them on the road someplace also.
If you happen to be visiting Seeds of Freedom festival next month then look out for them there! & if not, you can find them & their beautiful creations online at OLIÜK.
With Toca Love x
Creating with OLIÜK. Art & Creativity in our Community