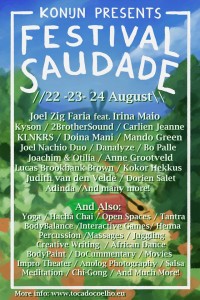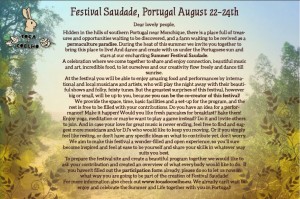 On 22-23-24 August we will host the spectacular festival Saudade, and turn a once forgotten land into an inspiring and magical place to remember!Prepare for an interactive, enchanting festival full of live performances; music that makes your body boogie and your heart open up, stories that take your breath away, moving dance performances, astonishing art installations, inspiring workshops and many more things that exceed your wildest dreams.
Remember; at Saudade you are not just a spectator or consumer, you are a participant! We make this festival together, and all our superpowers add up to more than just the sum of total. Do you have a special act you want to share? Can you teach us how to paint with your toes? Do you know forgotten myths? Are you the face-painter that will make everybody shine? Can you and your band not wait to play for the most loving audience one could think of? Join in! Contact us at CollectiefKONIJN@gmail.com
A limited amount of places is available and they're filling up fast, so don't forget to fill out the registration form!
Are you already craving a preview? Listen to and learn more about our amazing artists!