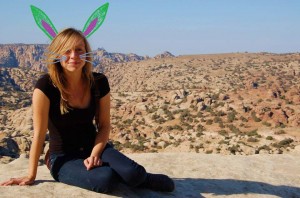 Enthusiastic as always she starts talking about the touch of magic team decoration is hoping to add to the Saudade experience at Toca Do Coelho. This week's KONIJN of the Week is chief decoration, a.k.a. Lavinia!
Together with her team she takes on the challenge to beautify the area for the festival in an environmental friendly way with a very limited budget. This, however, does not limit them in their fantasy. Since the festival is coming up soon we'll give you an appetizer… 😉
Imagine entering the terrain through a large gateway, the logo of Toca Do Coelho towering proud on top. As you set foot on the farm's land a Mediterranean fairytale-like feeling befalls you. Thousands of separately controllable led-lights bounce on the rhythm of the music, the smell of eucalyptus spreads out over the area and beautiful colors surround you. When your feet get dirty from the dancing and your muscles get sore you can relax in the spa, provided to you by team decoration, maybe even give or receive a massage for the full experience…
The combination of creativity, innovation and sustainability inspired Lavinia to join the KONIJN collective. Without doubt her team will inspire you at Saudade with all the hard work and its resulting beauty!
KONIJN of the Week: Lavinia!