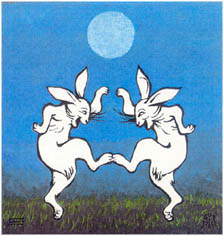 Partying like a rabbit – by Uma Pedra
The Ceuvel is what you would call 'hot and happening'. This bustling café in Amsterdam-Noord was built using money raised by crowdfunding and is a resounding success since the opening at the end of June. KONIJN (Dutch for Rabbit), a dynamic group of people that organizes events, was given the opportunity to organize their kickoff party for Toca Do Coelho at the Ceuvel. This kickoff party was thrown to raise money for the development of the permaculture farm, Toca do Coelho, located in the south of Portugal, definitely 'hot' and presently also very 'happening'.
During a rainy start the KONIJN-volunteers were already running around preparing the party by setting up the sound-system, arranging the food and many other things. As the rain ceased the guests arrived and the music artists performed their gigs in the first and final rays of sunlight. Naturally, the soccer game between the Netherlands and Costa Rica was displayed and watched by everybody together. Fortunately, this nerve-racking exercise was rewarded with the remarkable and well-earned success of the Dutch team. This celebration was continued well into the night and accompanied by the deep and catchy sounds of the Dj's. Finally, the satisfied guests and bunnies returned to their den for some marvelous dreams.
Already dreaming of an alarming number of bunnies partying till sunrise? Feel free to join the festival Saudade organized by KONIJN at the end of August at Toca do Coelho! At this festival many international artists will perform their acts, show their work and share their talents. Food will be prepared using local ingredients and everything will be organized by KONIJN-volunteers, together as a group in a comfortable atmosphere. You are welcome to become part of the KONIJN family and to contribute to the festival or to the farm in any way and of course to 'bunny on till dawn'!
Blog 2: Partying like a rabbit